National Disability Institute and New Community Federal Credit Union Launch Assistive Technology Loan Program in New Jersey
PILOT NEW JERSEY PROGRAM TRAINING DISABLED TO WORK IN LOCAL CREDIT UNIONS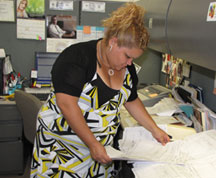 For 25-year-old Crystal Castro of Newark, navigating the world as a hearing-impaired individual has had many challenges. Finding work has been among the greatest.
"It has been difficult to find a good job because it seems like employers don't want to hire me because I am deaf, even though I am a hard worker and have many good skills," she said through a sign-language interpreter.
Castro learned about a pilot internship program in New Jersey specifically geared to people with disabilities. The program, called Building Economic Strength Together (BEST), led to her undergoing training as a credit union member service representative and then later accepting a placement at the New Community Federal Credit Union in Newark.
"It has been interesting so far," Castro said. "It's a great place and the people are friendly. I'm really enjoying my experience."
Mulu Gebreyesus, manager of the New Community Federal Credit Union, said her credit union's involvement with the BEST program is part of her organization's mission to help the community with their financial needs and educational opportunities.
"We want to assist individuals in achieving their goals," she said.
The BEST program is aimed at reaching some of the estimated 1.8 million individuals with a disability who are not being served by the banking community.
According to Pamela Owens, director of education and training for the National Federation of Community Development Credit Unions, the BEST Internship Program is a way to reach out to this large and predominately underserved population in a meaningful way. The interns are paid a stipend, which is covered by the Kessler Foundation, who is funding the pilot program for two years. Participants receive two weeks of classroom training and are then placed on-site at a credit union for a six-week period.
"For credit unions, this is a major opportunity to grow their membership while making a positive impact on the interns' lives," Owens said. "For many of these individuals, their job prospects are minimal and they are often not given the opportunity. With the BEST program, they gain work experience that will hopefully lead them to go on to fulltime employment."
Besides the New Community Federal Credit Union, there are seven other credit unions in New Jersey that participated in the pilot program.
BEST was developed by the National Federal of Community Development Credit Unions, the National Disability Institute and Allies, Inc., the New Jersey-based non-profit founded to help those with special needs. The New Jersey Credit Union League and National Credit Union Federation's Real Solutions program are also active supporters of the BEST program.

New Community Corporation is one of the largest non-profit community development agencies in the country. It provides services in four basic areas: housing, health care, job training and education. Founded in 1968 after the Newark riots, New Community's mission is to help community residents improve the quality of their lives to reflect individual God-given dignity and personal achievement.
Media Contact:
New Community
Office of Communications
973-497-4413